It's time to do some tactics!!! But first, I want to introduce you to your "camp counselors". Basically, I've put together a team of players in Football Manager 16 (because it's the only one that won't crash on my stupid old computer) that will be used to give examples of different player types and playing styles. I'll be using these players to provide an easy reference to certain archetypes that can be used when building a team. Instead of using real players which there can be heavy debate as to whether or not they are a certain archetype, I decided to create my own players. Not only did I create my own players, but I just made them all anime girls. But maybe cute girls can help you remember where they play easier.
Before we start, here's a bit of background. As I said, I'm using FM16, but since I don't have the in-game editor for it I built this team entirely through the editor that you can find under "Tools" in Steam. From there I could not only create players, but also create non-players. That means I built up a backroom staff of other random anime references. Would you like to see it? You're going to see it anyway. Here it is:
Bonda is from Gurazeni: Money Pitch, Mishima was a suggestion to be a player that I didn't see until I created the whole team already, Aqua and Kazuma are from Konosuba, and Senko is the titular character from Helpful Fox Senko-san. Then there's me, Kaede Aisaka, because that was my last used head coach character.
Enough about staff though, because I need to also explain some other limitations of how I'm using the game. Since there's no in-game editor, I can't maximize tactical familiarity, remove injuries, or change morale. There may be some amount of save-scumming to avoid injuries so I can still have them available for the demonstrations. Also, we're in MLS because I've always wanted my local team to be filled with cute anime girls and now it's possible. This means there's some weird roster rules, but that's not really for you to worry about. I'll handle it myself. I think the only things left to say are that I kinda went overboard with making these players the best and I might have accidentally made Japan a soccer juggernaut. We'll see where this goes. Some of the attributes may have been damaged in transit from the editor to the database, so things may different from how I set them.
Goalkeepers
Emilia: Shot-Stopper
Emilia, the silver-haired half-elf from Re:Zero, isn't really that special, imo. Just your standard goalkeeper. Nothing too special except for the fact that she's exceptionally good at what she does. She is perfectly capable of commanding her box on crosses and has cat-like reflexes. Emilia will be our starting goalkeeper for most of these set-ups. I love Emilia.
Rem: Sweeper-Keeper
Everyone's favorite blue-haired maid from Re:Zero, Rem is going to be our backup goalkeeper (behind Emilia). For scientific purposes, she's going to be a sweeper keeper. You can see how her other goalkeeping stats aren't as good as Emilia's, but the more attack-based attributes have a bit of an up-tick. Her tendency to rush out is up and her eccentricity is really high. When she's in goal, she's more of an extra attacker than simply a goalkeeper. This leaves me with only one question: Who's Rem?
Center-Backs
Dustiness Ford Lalatina: Big and Physical Defender
To take the role of official Chicago Fire meat-shield, I've drafted into service one of the best meat-shields in anime: Darkness from Konosuba. The point of a defender like this isn't exactly what they can do to help the team in terms of passing or helping to build up play. It's about the fact that they are tall and strong. Just put her in the box and she'll get to the ball. Put her in front of an opposing attacker and she'll break their legs. A defender like this is a blunt object that should mostly be used in fully defensive strategies.
Makoto Kino: Technical Defender
For those of you that have seen Sailor Moon, you'll know that Usagi ain't shit and the only characters worth a damn are Sailor Mars (Rei Hino) and Sailor Jupiter (Makoto Kino). Mako is the tallest and strongest of the group, but she's also very protective of her friends. So she's obviously a defender. But what kind? What I'm calling a "technical defender" is basically just an overall defender. She has the best positioning skills and mental attributes out of our three center-backs, but lacks a bit when it comes to the other two's specialties in power (Darkness) and on-the-ball (Momo).
Momo Kashiwabara: Ball-Playing Defender
Being that she's from a drama series (Domestic na Kanojo), Momo has no technical reason for being on this team other than I love her. So, with that in mind, her abilities are less based on her character and more on a needed archetype. The ball-playing defender is basically a center-back who actually knows how to dribble and pass. Practically, this means that she might make forward runs out of the defense just because. If the attack needs an extra player, someone like Momo will push up and help out. She's also incredibly helpful when running a strategy that wishes to build up play from out of the back.
Full-Backs
Violet Evergarden: Defensive Full-Back
If you have not seen Violet Evergarden and just feel like you need a good cry, go find it on Netflix. It's incredibly beautiful show about a girl who tries to assimilate into civilian life after being a soldier for her entire life and possibly committing several war crimes in that time. To match that tenacity, I felt that it would be appropriate that she would be a defensive full-back. What this means is that she is just a defender. It's possible for her to push forward, but really her main focus is to shy back while the team is on the attack. It's helpful to pair this sort of full-back with a center-back like Momo that's going to be making forward runs, so she can cover the area left behind.
Chika Fujiwara: All-Around Full-Back
A pure agent of chaos in the Kaguya-sama: Love is War series, Chika is actually pretty bland here. A standard fullback with good ability going forward and good ability in supporting the defense. She will probably in most formations with 4 defenders, as she's the all-around full-back. Pretty much a chameleon that can be plugged in with little thought involved.
Seira Morimura: Speedy Full-Back
My favorite obscure anime character, so obscure that on myanimelist I am one of only three people who've favorited her. In her show, Princess Nine, Seira Morimura is actually a lead-off second baseman who was converted to baseball after being a track star in junior high. With that running power and ability, I figured that she would be the perfect archetype for what I call a "Speed-Back". While she has some defensive capabilities, her goal is to overlap with the winger in front of her and get into the attack. She's important for any formation that calls for a wingback and any strategy that needs quick movement up the pitch.
Central Midfield
Taiga Aisaka: Defensive 6
The cuter half of the main character duo of Toradora, Taiga is smol, but fierce. The reason I always think of her as a 6 is because of the Chicago Red Stars' Danielle Colaprico. While the classic ideal of a defensive midfielder isn't usually someone short, the size of the player doesn't really matter. The main point of a 6 is that they have the ability to get to wherever the ball is and dispossess the opposing player of the ball.
Vignette April Tsukinose: Deep Lying Playmaker
Vigne is a demon, but isn't very good at it. She's just too nice. My favorite character from Gabriel Dropout, I figured that she'd be best at the deep lying playmaker position. Her job is to essentially jump-start attacks from back in the defense. Mostly used next to Taiga in the defensive midfield to act as a counterpart. You'll see where that balance will be when I actually start showing the formations.
Ichigo: Support 8
The cutest lil strawberry and probably the most hated character from Darling in the FRANXX, Ichigo is supposed to be the leader of the squad. So, she's the captain of this team (Emilia is the vice-captain). 015 was originally intended to just be an all-around midfielder, but she's really more specifically an 8. She's not the best at any single thing, but she's proficient at almost everything she needs to do.
Mai Sakurajima: Attacking 8
The team's big name star: Mai Sakurajima of Rascal does not Dream of Bunny Girl Senpai. You may notice that she has a massive contract and that's because she's the first of our three "Designated Players". It's an MLS thing where you pay them over the max salary. I figured that I had three slots to work with and I'd use that freedom to pick out who were the most important players on the squad. Mai will probably be used the most out of any of the central midfielders because she's so versatile. Her ability to push forward into the box and take shots from outside the box really just make her a pivotal figure for the offense. While she' not "the 10", she may play in that spot as well as wear that number.
Wingers
Rui Tachibana: Defensive Winger
Hailing from the same series as Momo (Domestic na Kanojo), the legendary step-imouto Rui also doesn't have a canonical reason for her position in this squad. She's just filling a role and that role is the defensive winger. Basically a wing-back, but not considered a defender and also less offensive. Really, it's kind of a paradox when I describe it that way, but trust me on this. She'd probably be the perfect winger to put in front of someone like Seira because Rui would be the one to track back and cover that position while Seira's up in the final third. You'll probably be surprised how often she's going to be used.
Tohru Kobayashi: Speedy Winger
Miss Kobayashi's Dragon Maid is the mac & cheese of anime and if you're having a bad day this show will make you happy. The titular "dragon maid" is Tohru. While her dragon abilities could've had me place her almost anywhere on the pitch (she's great at dodgeball), I figured I'd focus on the "wings". The speed of her flight would probably mean she can absolutely fly up and down the flanks. Not exactly a bomber, she'll probably the one getting in behind the defense often enough that she'll end up being the one sending in most of the crosses.
Megumin: Shooting Winger
It's the good ol' explosion girl from Konosuba! Megumin is fan favorite so she's obviously #12. Her explosive shooting makes her our official sniper. Her job is going to be to cut inside and take shots whenever possible. She'll mostly be involved in the more attacking formations, but not as much when defensive. She is probably jealous of Tohru for being called "explosive".
Attackers
Zero Two: The 10
Our second Designated Player, 002 is the flashy show-stopper of Darling in the FRANXX. Thus, it's only right that she'd be the #10. The thing about having a #10 is that when you have one you will form your entire offense around that one player. In our case however, we're going to be switching up tactics often enough that this crucial player may not be getting all of the playing time she'd deserve. For your own reference, if you have a truly great #10, then you need to make sure that your offense is built for them.
Shouko Komi: True 9
The final Designated Player, Komi-san just wants to be your friend, but Komi-san Can't Communicate. She's also a god. I have given her a position befitting of a god. The True 9, an all-around striker that can finish any ball that falls in front of her. Surprisingly, she my not be the best forward in most situations for us, but we still love her.
Ryuko Matoi: Target Forward
The biggest, strongest, meanest player on the offense. Ryuko comes from Kill La Kill and she now features less nudity! Maybe that's a bad thing based on the lore of the show. But anyway, her role will be the target forward. Much like Darkness in defense, Ryuko will be the tall girl in the offensive box. Her main job is to just be tall and hit the ball hard.
Ami Kawashima: Poacher
Another blue-haired girl who will absolutely not be getting the boy, Ami Kawashima from Toradora is a model… poacher! The awareness and acceleration to stay on the shoulder of the last defender and breakaway, Ami will be used as the main pressure on the opposing defense in situations where we want to press. She's also used to basically sit around the box and wait for the right opportunity to strike the ball.
Reserves
Rumiko Manbagi
As you can see, Manbagi is the definition of "average". When I was creating the team, I figured that I should probably create another midfielder just in case. I probably should've made another defender, but that's what happens, you know? Just so you know the source, Manbagi is from the Komi-san Can't Communicate manga. You probably won't see much of her.
Tyler Adams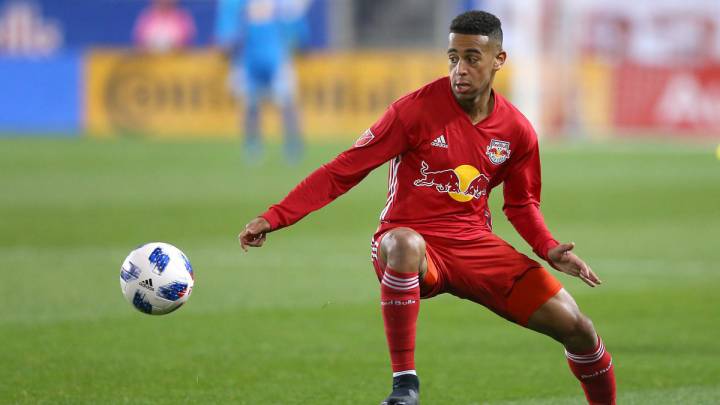 So, this is where weird MLS shit pops up. I couldn't help myself. I meant to keep this team specifically for anime girls, but then the waiver draft happened and I saw one of the most promising American players in the game available. I can't just leave him there. So Tyler Adams is now an honorary anime girl. I hope he's happy.
Full Roster
(Pictured above: the team as selected by assistant coach Mishima in a 4-4-2)
And that's our team! To be honest, I probably should've added another winger and a defender, but fuck it. Tyler Adams irl is a fullback now, but at this point in time he was still just a defensive midfielder. We can develop him. But that's more off a problem for me in the future if I want to continue playing with this team after I'm done with this instructional series.
Speaking of which, this series will follow the team through a single MLS season and I have a lot of different formations to try out and show to you. Because the team is literally the greatest team ever put together, I'm going to finally be able to see the Chicago Fire win a game! In fact, I've already simmed the first game and am excited to share the results with you and how it was done.